It is the dream of every woman to look beautiful and stunning. The role of alluring makeup in this regard cannot be ignored. For special festivals, and occasions, you can invest reasonable amount in beauty care by keeping in mind these top 10 alluring makeup ideas and tips.
10. Smokey Eyes
Many young girls are fond of smoky eyes but are afraid of whether smoky eyes would suit their personality or not. For an idea, you can have blackish tone only during winters. Do not use too much black color, but go with dark browns to make the eyes look perfect and heavy.
9. Winged Eyeliner
The winged eyeliners can easily be purchased from markets nowadays. It gives you good look, and can help you have bigger and prominent eyes. The purchase of quality product is mandatory so that your beauty is not compromised.
8. Use Of White Under Eye Liner
The use of white under eye liner is good to make your eyes look broad open and refreshing. This should only be done on the recommendation of beauty expert, because not all white and silver colored eye pencils are worth to go with.
7. Add Light Glitter
Glitters have been present everywhere and are purposed to make your makeup look attractive. Any type of glitter you use should not be dark. Add light glitter when it comes to look attractive and elegant.
6. Add Water Proof Mascara
Mascara plays an important part to complete the look of your eyes. A branded mascara should be given high preference. It is ideal if you choose water proof long eye lashes mascara.
5. Soft Lips
Do you want to have soft lips? Doing a day time makeup, especially the summer makeup, you should remember to not opt for too bright and vibrant lipstick shades because these are good for nothing. In order to have soft and smooth lips, light colored lip colors are good.
4. Use Of Natural Base
Applying a base is one of the most important parts in the makeup. For your ease, you can use natural base rather than the creamy sticks and bases. Go natural with loose powders and water bases which can match well with your skin tone.
3. Do Light Contouring
Contouring defines your looks, but it is not an essential part of makeup. During hot sunny days, we recommend you to not consider contouring. Keep your makeup as light as possible so that your beauty is not ruined.
2. Soft Blush
It is impossible to complete your makeup without a nice blush that would enhance your cheek bone. The use of rosy pink and other similar tones is great to settle your looks.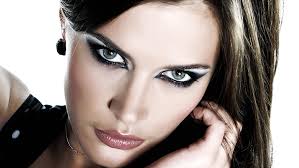 1. Soft Eye Makeup
Soft eye makeup is what we highly recommend. You can use some pastel shades, like nu'de tones and soft shades of pinks. Whatever you choose should be of reliable brand.
Do you like the post?