If you do not want to lug your own golf bag as you walk the golf course, then a pull/push golf cart is what you need. Over the years, these pull/push golf carts have undergone significant advancements to become easier to load, easier to pull/push, foldable, lighter and stronger. Read the following top 10 best golf carts reviews to find out what sets them apart from riding cart.
List of top 10 best golf carts reviews:
10. Orlimar Pro Series Caddie 2000 Golf Cart
This golf cart is made from lightweight material and an adjustable handle is featured, which means that it will fit any sized hand. Ball holders, a drink holder, foot brake and spot where a scorecard can be stored are also included. It features 10-inch front wheels and 12-inch rear wheels, and can also be folded for convenient storage.

9. Stowamatic Lite Trac Aluminium Golf Pull Cart
Stowamatic is an award winning brand in the modern day U.S. golf market that is rapidly growing. This an exceptionally worthwhile golf cart that is lightweight and sturdy. The fact that its frame is made from aluminum makes it even more maneuverable. This cart folds efficiently so that space is saved when it is stashed away. It includes an inbuilt golf ball and scorecard holder.

8. Pinemeadow Golf Courier Crusier Golf Cart
Lugging a heavy golf bag can turn out to be a hassle, and this entry-level golf cart offers a convenient solution. The anti-slide wheels are durable and easy to install. The frame of this cart is made from aluminum and can be folded in two simple steps. The nylon strap that will hold the golf bag securely is made from nylon and has buckles too.

7. Bag Boy Tri Swivel II Golf Push Cart
This golf push cart features swivel tech technology, so the front wheels swivels 360 degrees, making it extremely maneuverable. The remote Swivel Lock Out can be engaged in order to lock the swivel wheel into place. For compact storage, this cart can be folded in three quick steps. The upper bag bracket will accommodate a golf stand bag and its adjustable support arms will hold it.

6. Intech LiteRider Cart
Walking a golf course with this lightweight 2 wheel golf pull cart will turn out to be a pleasurable. A heavy, uncomfortable golf bag will no longer have to be lugged around. It will take mere seconds to fold and unfold this cart. It can be moved effortlessly because of its anti-slide tread, durable tires and lightweight steel frame.

5. Orlimar EZ Roll Golf Cart
This is an extremely light golf cart with three wheels that have anti-slide tire treads and sealed ball bearings. The hand brake can be used on just about any terrain. A drink caddy, tee holders and a watertight compartment for items like a scorecard are also included. The golf bag will be securely held by the strong elastic lanyards.

4. Sun Mountain V1 Golf Cart
This is a very revolutionary golf cart. It is an efficient, ergonomic and folding golf cart with three wheels. The handle is also adjustable and ergonomic. This cart can be folded down and unfolded in two quick motions and when folded, it can be easily fitted into the trunk of car. The golf bag will be securely held by the adjustable brackets.

3. Jef World Of Golf Deluxe Golf Cart
On the golf course, this golf cart will prove to be easily to move since it lightweight and sturdy. It can be opened and closed in a single fluid motion and if and/or when it needs to be stored, it can be folded in half. Its wide, stable wheels can also be easily clipped on and off. It also includes a scorecard holder, which is waterproof.

2. CaddyTek SuperLite Golf Push Cart
This lightweight golf push cart has an adjustable handle that is ergonomic padded and has 4 pushing positions. Any type of golf bag can be easily fitted into the patented bag holder, which will hold it perfectly. The patented break design means that the brake has to be pushed to brake and release. Also includes a beverage holder, mesh net and an umbrella holder.

1. Clicgear Model 3.5+ Golf Cart
This is the latest 3 wheel model of Clicgear's very popular golf pushcart line. This 3.5+ Golf Cart features several improvements, such as 80% more cargo net storage. A Bag Strap Easy-Clip System is also included so the bag can be adjusted and fitted on the cart easily. The Brake System has also been fully redesigned that eliminates cable damage and wear.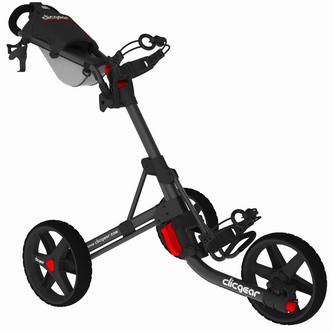 So, if you want to move your golf back around easily and have your golf gear within hands reach, hopefully having read the above top 10 best golf carts reviews will help you make an informed decision of which pull/push golfer cart you should buy.