This year, every guy deserves to find something special under the tree when they wake up on Christmas, whether they have been naughty or nice. Shopping for guys is not easy, fortunately, despite their own distinct desires, style and tastes; they seem to share a few things in common. Here you will find some of the perfect Christmas gifts for him to choose from regardless of your budget. Consider this the ultimate catalog of top 10 Christmas gifts 2016 for men that will ensure manly Christmas bliss.
1. iPad Mini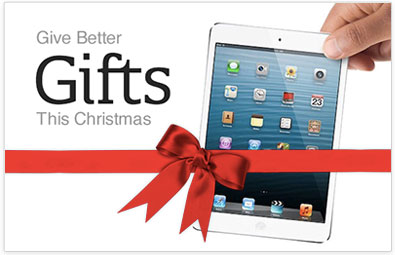 It seems that the tablets of today are dieting. Critics were left in awe with the slim physique of the iPad mini, which is the width of a pencil with almost the same weight as a paper notebook. Thus, Apple's iPad mini is practically a miracle of modern technology, with all the specs that the "full-sized" iPad is equipped with, and the man you are shopping for would definitely appreciate getting one as a gift.


2. Kindle Fire
The Kindle Fire is online store\'s popular e-book reader/mini tablet computer, and this is a perfect Christmas gift for if your guy is fond of reading and/or have always wanted a tablet computer. Whether or not your guy is a techie-geek, he will be happiest with this all-encompassing, multi-functioning, portable entertainment device. The device comes with 8 GB of internal storage, which means your guy will be able to store 6,000 books or 800 songs or 10 movies, along with 80 applications in it. Your guy will also be able to enjoy ultra-fast web browsing on this device as well.


3. Halo 4
These days, every guy seems to have a gamer within him and if the guy you are shopping for hails to the Master Chief, then Halo 4 is one of the best Christmas gifts for him. Halo is one of the bestselling videogame franchises and it returns with this fourth installment, which features more characters, maps, vehicle and weapons than ever before. If the guy you are shopping for is a hardcore Halo fanboy, then he will undoubtedly cheer the addition of this game to his collection.


4. Helo TC iOS Helicopter
Controlling a remote controlled helicopter may not be the most productive use of an iPhone, but it can certainly be the most entertaining. If the guy you are shopping for has an iPhone, he could use to steer Griffin's Helo TC model helicopter, which is a miniature RC helicopter for outdoor use. Best of all, using his iPhone, your guy will be able to program a flight pattern for this RC helicopter thanks to the "Recordable" routes feature, and then just sit back and watch it fly hands-free.
5. Nokia+ FuelBand
Function and style are two qualities that are most likely on your guy's Christmas wish list this year. Thus, Nike+'s Fuelband is one of the ideal Christmas gifts for him because it has got both of them covered, especially if he is a fitness enthusiast. The guy you are shopping for will be able to charge it using a USB port and the exterior has an LED display that lights up. This wristband also has a built-in accelerometer that measures energy expenditure.


6. Polar RC3 GPS
Want to prove that you are a genius when it comes to buying gifts for guys? Gift him this new GPS-integrated watch for Christmas. If your guy is a serious biker, cardio fiend, runner or triathlete, gifting him this Polar RC3 GPS, which is equipped with smart coaching, will be quite thoughtful. Cycling-specific cadence and speed sensors are also included in this all-in-one system, along with an app through which progress can be monitored and routes can be analyzed. Plus it is a great watch.


7. Sony BDP-S3100 Blu-ray Disc Player with Wi-Fi
What guy does not love to watch movies, and you could improve your guy's experience of enjoying his favorite movies by giving him this Sony BDP-S3100 Blu-ray Disc Player with Wi-Fi as a Christmas gift. This Blu-ray Disc Player will give your guy an easy way to watch hi-def movies in his bedroom or living room, and perhaps you can join him too. With built-in Smart functionality, this player plays much more than just Blu-ray discs.


8. Timberland
The Classic 6 inch Waterproof Boots from Timberland are back and they are the fall and winter staple this year for millions of men, so why not buy one for your man too. Your man will be set with an excellent outfit for this holiday season if he pairs these boots with a dark jacket and some great fitting jeans. If you really know about his choices and preferences, you can even use the "Design Your Own" program and design a custom boot for him.


9. Kiehl's Ultimate Man Refuelling Set
Your man probably does not rejoice in shopping for skincare, but he certainly needs it as much as you do. So this Ultimate Man Refuelling Set from Kiehl includes any aggregation of everything your man would need, in terms of skincare. A body wash and scrub, face wash, lip balm, shaving cream, and more will be included in this set.


10. Breaking Bad Complete Series
If the man of your life has just started watching the series, now is your chance to get him really hooked with this ultimate Breaking Bad complete set for Christmas. The DVDs and Blu-Rays are stored in a collectible replica money barrel, which is an iconic object from the series. The discs include an exclusive alternative ending, hours of special features, a 2-hour documentary, and the set even comes with a Los Pollos Hermanos apron.


If you are worried about the hassles of holiday shopping for a guy, then do not stress yourself and choose one of the above top 10 Christmas gifts 2013 for men.
Christmas Gift Idea: Top 10 Christmas Gifts 2013 For Women.