Keeping the body in shape is one of the toughest tasks of anyone's life. Both the men and women remain worried about how to keep a control over their weight and look adorable. Some of them choose to go for bodybuilding, while others start adapting the ways of controlling their diets. Another way to control one's weight is to do different exercises. Following what the fitness trainers say we can definitely reduce pounds in shorter timeframe.
Let us take a look at the list of top 10 hottest female trainers in America in 2014.
10. Ella Magers
Ella's great passion has had been to share her fitness experience with the world. This is why, this American trainer has got much fame in her profession. She uses to writer articles and believes in attaining a healthy lifestyle, and this is what she recommends to many of her clients worldwide. She is running her own website sexyfitvegan.com.

Twitter: twitter.com/SexyFitVegan
9. Jaime McFaden
Jaime's website wheybyj.com speaks of her talent as a beautiful and successful American trainer. She updates the website regularly with the best articles and loves to share her experience to let the people know what she does nd what she does not like to stay healthy and fit.

Twitter: twitter.com/wheybyj
Facebook: facebook.com/WHEYBYjay
8. Christina Jensen
Based in New York City, Christina is working as a professional dancers, model and fitness expert. She is more recognized for her Focus T25 workout DVD's, The Radio City Rockettes, and the Olympic Chobani Yogurt commercial. Christina is a beautiful and amazing trainer of the era. She has also worked with director Peter Burg.

Twitter: twitter.com/TinaAJensen3
7. Jessica Matthews
Jessica Matthews is working as an assistant professor of exercise science at MiramarCollege. She is one of the most famous, successful and hottest fitness experts of USA. She owns several blogs which she updates with various healthy and fitne articles. She also contributes to publications including CNN, USA Today, and Oprah.com.

Twitter: twitter.com/FitExpertJess
6. Astrid McGuire
Astrid's website astridswanmcguire.com is worth check. She belongs to Los Angeles, and is a highly professional trainer, fitness model and athlete. Astrid has committed her life to share her fitness experience with he women around the globe, and works on different fitness programs every now and then to sell in international markets.

Twitter: twitter.com/AstridMcGuire
5. Jessi Kneeland
Jessi, a beautiful and bold trainer of America, is a certified fitness expert, and blogger. She is a NYC dweller, and is in love with Scotch on the rocks. Jessi has shared her fitness tips at many of the websites and regularly develops highly effective fitness programs for her global fans. She loves spending the afternoon with either her family or reading her novels.

Twitter: twitter.com/jessikneeland
4. Katherine Mason
Katherine is a fitness instructor, personal trainer and exercise consultant. She is a diva of New York City, and has had been a great fitness model. She loves playing different games just with an aim in mind to stay fit and healthy. She has well identified herself as an athlete, and is a fantastic soccer player.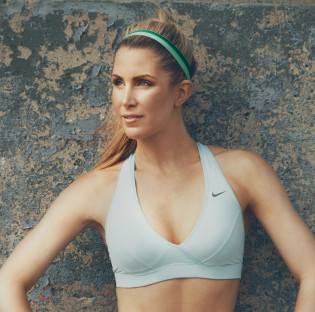 Twitter: twitter.com/KatherineMason
3. Jessica Smith
Jessica Smith is a certified well-coach and fitness expert. Despite the fact that she has so much experience of around 13-years, she still looks wonderful and extremely hot. She has starred in numerous best-selling DVDs and is now hosting JESSICASMITHTV on YouTube.

Twitter: twitter.com/jessicasmithtv
2. Natalie Uhling
Natalie Uhling is a leading fitness instructor and entrepreneur who believes in remaining in shape throughout her life. She is from New York City and works at an international level as a fitness trainer. She works hard to promote her fitness programs and health brands. She is the influencer of United Talent Agency.

Twitter: twitter.com/natalieuhling
1. Heidi Kristoffer
Heidi Kristoffer is the creator and producer of Microsoft's Bing Fitness Yoga. She has much passion for yoga and loves to share her experience with the world. She is one of the hottest fitness trainers in the world who works to benefit both men and women with her fitness programs. She is rated as the hottest fitness expert by Shape Magazine, and is an inspiring yoga teacher—as per DoYouYoga. She is also a yoga instructor in NYC as per RateYourBurn.

Twitter: twitter.com/heidikristoffer