Air transport is undoubtedly the fastest mode of transportation around. It is also the most comfortable form of transport everyone yearns to enjoy once in a lifetime. Initially, it was not popular as it is getting these days. Perhaps, if you have not used in your lifetime, then you must be in the channel planning your flight. There are various airports around the world that you can't just miss landing on. These airports often provide prestigious services such as accommodation, shopping, security, immigration and other essential customer services. The following is a compiled list of the top 10 biggest airports in the world 2016 reviews you may consider for your next flight holiday.
1. King Fahd International Airport in Saudi Arabia (77600 hectares)
This is situated 20 km to the northwest of Dammam in Saudi Arabia. It is the world's biggest airport operated by General Authority of Civil Aviation. It was opened in the year 1990. It was the first airport in Saudi Arabia to use duty-free stores. It also has separate shops where passengers buy gifts and other goods. Moreover, there are several restaurants, banks, and cafeterias. It has six terminals of which three are for passenger processing. The third level is allocated for arrivals, 4th for boarding and sixth is for departures. The Royal Family is reserved for the government officials, Saudi Arabia Royal Family, and other guests.
2. Denver International Airport (13726 ha)
Denver is the second biggest airport in the world and the largest in the United States. It is the central point for a variety of airlines such as Frontier, United and Great Lakes. It records around 31 million passengers and 635,445 flights every year. DIA has various grotesques located above the exit doors. A pedestrian bridge connects Concourse A to the terminal where travelers can view plane tax underneath them. The terminal has been separated to east and west sides for easy passenger pick and drop off. DIA has three different concourses that are separated far apart from each other. It is the best airport in the entire US.
3. Dallas International Airport (7800 ha)
This is located in the central part of Dallas and Forth Worth. It is the third busiest and the ninth in passenger traffic. It has five terminals with 165 gates. It is expandable to accommodate up to 13 terminals of 260 gates. Dallas/Fort International Airport forms the largest hub for most American Airlines. In fact, its daily flights reach 900 daily. Last year, DFW recorded a huge number of passengers of 64,174,163. It is the primary central point for most UPS, American Flights, and Airlines.
4. Shanghai Pudong International Airport (3350 ha)
Shanghai Pudong is among the leading big international airports handling many international flights like DHL, China Cargo Airlines, FedEx Express, China Eastern Airlines, and Yangtze River Express. It accommodates up to 51,661,800 passengers. Pudong International Airport operates it.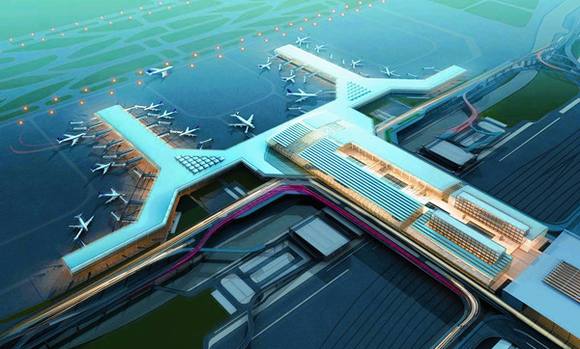 5. Charles de Gaulle Airport (3200 ha)
Charles de Gaulle is located to the northeast of Paris. Aero Ports de Paris manages it. It is the central operating center to airlines such as FedEx Express, Air France, and Delta Air Lines. It can accommodate about 62, 052, 917 passengers and 497,763 aircraft operations yearly. It is one of the largest airports in the world. It is the 2nd busiest airport in Europe and 12th in cargo handling.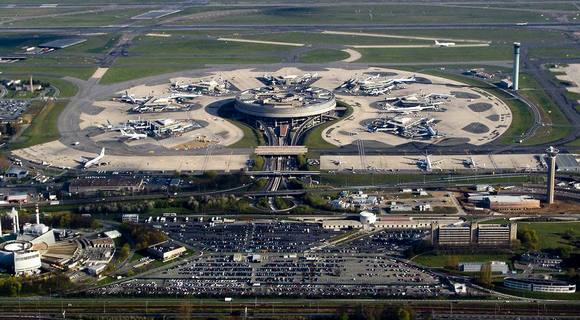 6. Madrid Barajas International Airport (3050 ha)
Madrid Barajas in Spain is among the biggest international airports in the world. It is located in the Northern part of Puerta Del Sol at the central part of Madrid center. It has a total space of 3050 hectares. It is equipped with sufficient facilities that can handle up to 41, 833,374 passengers in a year. The number of operations that it can handle is 322,601. It conducts all flights to Asia, America, Canada and Europe among other parts. It has a total of four runways of which two to two are parallel to each other.
7. Bangkok International Airport (2980 ha)
This is also referred to as Suvarnabhumi Airport Bangkok. Thailand PLC operates this airport. It is a home to many domestic and international flights. According to the 2014 statistics, the movements handled by Bangkok International Airport were 289,568. It has a passenger handling capacity of 8, 279,790 domestic and 38,143562 international passengers. It is the busiest airport in Thailand twentieth busiest in the world and sixth in the entire Asia. It was opened in the year 2006 and took all Don Mueang flights. It has the largest passenger terminal of 563000 square feet. It is the largest terminal ever constructed in a single phase.
8. Chicago O'Hare International Airport (2610 ha)
This is located to the northwest of Chicago, Illinois. It is the number three busiest airport in America and the sixth in the world in passenger handling capacity. It is currently one of the largest airline hubs in the United States handling various airlines such as Air Choice one and American Airlines. It can handle a passenger capacity of 70,075,024 and 871,933 aircraft operations.
9. Cairo International Airport (2550 ha)
Cairo is another busiest and largest international airport. It is located on the northern side of Cairo. It is a hub for various airlines such as Alexandria, Almasria Universal, EgyptAir and AMC Airlines. It has a passenger handling capacity of 14,711,500 yearly. Cairo International Airport has three terminals. There is a new cargo terminal being constructed.
10. Beijing Capital International Airport (2330 ha)
This is situated to the northeast of Beijing city. It has a space of 2330 ha. It is owned and operated by Beijing Capital International Airport Company. it is the busiest airport in the world with high passenger traffic of 86 130 390. It also has the largest number of operations of up to 581,773 flight movements. It features the best construction with excellent departments providing unrivaled customer services. Beijing International Airport passenger traffic keeps increasing day after day.
Conclusion: These are the top largest international airports in the world based on size. If you are planning on stepping your foot on the biggest airport in the world, then you can travel to any of the above travel choices. This could be the best life memories you will ever want to share. Life is too short to live dreaming about your flight travel. People fly and you too can fly this coming holiday.