The mobility of an individual can be affected by a myriad of medical problems. Whether they are old, have been in an accident or an impairment has limited their ability to walk, they can regain their freedom and independence by using an electric wheelchair. They can easily travel long distances while seated on a battery-powered wheelchair. So, if you or someone you know needs one, one of the following top 10 best electric wheelchairs will prove to be quite beneficial.
10. Karman 18 Inch Full Power Stand Up Chair
The Karman XO-202 is not merely an electric wheelchair, rather many health benefits are also offered by it. With this wheelchair, you can bring your body to a standing position as well. Hence, you will gain better bladder functioning, blood circulation, kidney functioning and muscle tone. Its armrests are concave shaped, come with SHARK II and can be flipped back. It is equipped with a 320 Watt motor.

9. COBALTBL16FS - Power Wheelchair
If you require a transportable electric wheelchair that is easy and lightweight, then the COBALTBL16FS will be the right choice for you. This wheelchair can be disassembled into three parts by pulling the release lever. The seat is also quite convenient since it can be swiveled and folded down if space needs to be saved while on the go.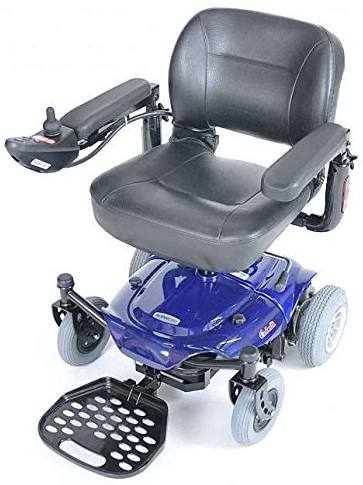 8. Invacare Pronto P31 Power Wheelchair
Simple comfort, durability and handling are featured by the Invacare Pronto P31, which is a compact front-wheel drive electric wheelchair that has been designed to be extremely sleek. The full length arms of this wheel chair can be flipped and removed, and their height can be adjusted. Its flat free drive wheels measure 9-inch and it comes with a 50 Amp PG VR2 controller.

7. Pronto Air Personal Transporter
A travel-ready design is featured by the Pronto Air Personal Transporter, with ergonomic, modular arm pads, which will ensure natural activity and rest. Better posture is promoted by the Innovative Invacare MyBody Seating and pressure is relieved through its contoured form. Anyone seated on this wheelchair can easily navigate using its intuitive controls and additional convenience is offered by its flip-up footplate.

6. Jazzy Electric Wheelchair Pride 600 Power
Exceptional stability and splendid performance are delivered by the 600 Power Jazzy electric wheelchair. It has been designed to be compact with a standard Active-Trac Suspension, which makes it a splendid, all-around battery-powered wheelchair. Both the front and rear wheels are equipped with OMNI-Casters, which prevents them from hanging up. Freewheel levers are also mounted to the sides, which can be easily accessed. It is a smart electric wheelchair battery.

5. Sunfire Gladiator Very HD Power Wheelchair
This electric wheelchair can be easily maneuvered thanks to its mid-wheel technology. This electric wheelchair comes with a powerful 90 amp PS VR2 controller with programmable features. The 45 degree tilt position of the seat can be adjusted and its angled arms, height and width can also be adjusted. Even the tension suspension and the height of the pillow headrest can be adjusted.

4. Pride Jazzy Select Elite Power Chair
Jazzy Select Elite is a powerful and stylish electric wheelchair that features front-wheel, in-line drive technology that makes it very maneuverable and stable. Controller and shroud guards are included that protect this wheelchair from everyway wear and tear. The high-back seat of this wheelchair comes with back seat covers that can be removed and replaced. The foot platform is also larger.

3. Foldawheel PW-1000XL
The Foldawheel PW-1000XL from Wheelchair88 weighs just 55 pounds and you can open and fold it in a matter of seconds. In comparison to the Foldawheel PW-999UL, it has a much wider 18-inch seat cushion, which can even be detached along with the backrest. It is also equipped with bigger 10-inch rear tires and more powerful yet quiet 250 Watt brushless motors.

2. Compact Mid-Wheel Drive Power Chair
CTM's Power Chair is a luxurious motorized wheelchair that is equipped with a 19-inch mid-back seat with armrests and headrests that can be adjusted, and the suspension is concealed within its brand-new style. This wheelchair can achieve a maximum speed of 4 miles per hour, partly thanks to its 10-inch drive wheels, the front ones being anti-tip and fully suspended.

1. Smart Chair - Electric Wheelchair
This Electric Wheelchair by Smart Chair has a weight of merely 50 pounds, which makes it one of the most convenient and portable battery-powered wheelchairs available today. This electric wheelchair supports weights up to 250 pounds. This is a foldable wheelchair so it can be stored easily. It can also climb up to 12-degree slopes and has a tight turning radius of 31.5 inch. It is a best smart and portable electric wheelchair for 2016.


Conclusion: Apart from offering a convenient means of traveling from one place to another, one of the above top 10 best electric wheelchairs will enable them to freely and independently move once again.
So what is the best electric wheelchair for you? Please comment below.