Christmas Gift Idea: Top 10 Christmas Gifts 2016 For Men.
If you have a leading lady in your life, or quite a few of them, then they definitely deserve to be treated with something spectacular, even if they say they may have it all. The following top 10 Christmas gifts 2016 for women might offer some inspiration.
10. Diamond Ikat Tote Bag from Rebecca Minkoff
If you think she needs another handbag, and a woman can never have too many handbags, then an effortless way to introduce the pattern and texture of Rebecca Minkoff's subtle Ikat print into her wardrobe is to give her this leather and straw tote bag this Christmas.


9. Etta Deco Printed Cashmere & Silk Blend Scarf from Marc Jacobs
She will definitely love this bold and bright scarf, which is a 50-50 mix of cashmere and silk, featuring the popular Etta print from Marc Jacobs that makes it chic, on-trend retro and warm. Since it is the holiday season, this scarf will go really well with a red dress, and of course, you should consider buying her one.


8. Schwinn Women's Sanctuary Cruiser Bicycle
If the woman in your life cannot wait to be out and about as soon as winter is over, then what better way to make it easier for her to cruise the neighborhood than on her very own Schwinn Sanctuary 26″ Women's Cruiser Bicycle. This bicycle features a steel cruiser frame and fork from Schwinn for compfortable riding, while the full fenders will help keep the water off her in the rain and she can even use the rear rack to carry cargo.


7. Liberty London Purple Iphis Small Purse
This lovely purse with the Iphis print from Liberty London is small enough that your leading lady will be able to fit it in her clutch bag, which is an important quality that women look for in clutch bags and purses. At the same time, it will allow her to keep her money organized since there are card slots and a coin pouch in it as well.


6. Dolce & Gabbana Pour Femme
If your woman really is the leading lady in your life, then she definitely deserves to have this classic fragrance that embodies the essence of the maternal, passionate, and sensual Dolce & Gabbana woman. Pour Femme will linger everywhere she goes this Christmas, enveloping the senses.


5. La Sardina Camera and Flash Czar
The popularity of analogue cameras is increasing, especially among women, and this La Sardina Camera and Flash Czar from Lomography is a stylish take on that trend. Your leading lady will be able to take wide-angle photos or layer photos over one another using the wind-back function. Apart from taking snaps, she will also love to keep this analogue camera by her side as a cool accessory because of its bright blue and metal casing.
4. Diptyque Orange Chai Candle
Scented candles are one of those things that she will be delighted to receive and probably wants, but she probably has not because she feels slightly decadent splashing out on for herself. This Orange Chai mini limited-edition candle from Diptyque has lively jewel-toned hues with gold decorations and featuring the classic Diptyque motif in a new, innovative form. The scent this candle emanates is a mellow but not sweet harmony of a mixture of Indian spices, orange and quince.


3. C. Wonder monogram jewelry box
She will love the sleek beauty of this lacquered jewelry box, which has a velvet lining finishing that makes it ideal for her to store her keepsakes and stash her personal items with panache. The best thing about this gorgeous jewelry box is how easily it will make her feel that it is truly hers, since a prominent clasp with a single initial (from A to Z) is featured on each box. It is also available in a wide range of cheerful colors, which makes it even more perfect to buy for the lady in your life. She could create a chic display by placing it on her vanity table.


2. Penhaligon's Musical Christmas Box
The sweet tune of a songbird will be played by this Musical Christmas Box from Penhaligon. You can buy this elegant rotating music box alone or you can fill it with a selection of goods that you can choose for that special lady in mind. Even if you gift her just this pretty music box alone, it will make a lovely accent for her vanity table, and she will be able to elegantly store her treasured jewelry or items in it.
1. Charbonnel Et Walker Sea Salt Caramel Truffles
If you want to push-up the stocking of the lady in your life while making sure that it does not leave too much a dent in your wallet, then you will not be going wrong by picking up a box or two of these sea salt caramel truffles. Charbonnel Et Walker, a high-send English chocolatier, brings these home-made milk chocolate truffles, which have a caramel and sea salt center and icing sugar dusting. No Christmas gifts list for women is complete without chocolate truffles and these ones are sure to leave her mouth watering for more.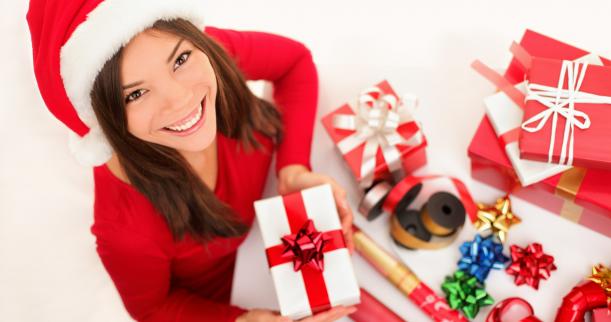 Whether there is one or several of them, if you pick one of the above top 10 Christmas gifts 2013 for women, you are sure to earn plenty of brownie points.