The lemons are a species of small evergreen trees, native to Asia. These are famous all over the world due to their immense health and beauty benefits. The lemons are considered to have first grown in Assam, India. These are rich in vitamin C, and other ingredients. The taste of lemons is somewhat sour, but it is highly used in salads, and day to day meals. Check these top 10 best beauty benefits of lemons.
10. Teeth Whitener 
Combine baking soda and lemon juice, and apply it to your teeth with a clean Q-tip. This is a great way to get white and shining teeth. You can even rub your teeth and rinse with lemon juice, it is an effective and cheaper way and you would not need to visit dentist every now and then.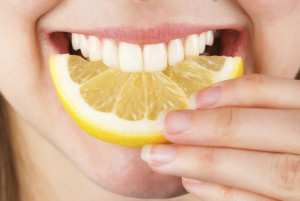 9. Skin Brightener
Lemons are rich in vitamin C and citric acid, so these are great to brighten and lighten the skin. Vitamin C is a great antioxidant for neutralizing free radicals and boosts collagen production. Those with somewhat dark skin should use lemons in the form of drink or can rub their skin with it to get great benefits.
8. Clarifying Moisturizer
Combine some coconut water with lemon juice, and apply to the skin. This acts like a useful mask and provides much hydration to the skin. This mixture softens the skin, removing dead cells from it and paves way for the production of fresh skin cells.
7. Elbow and Knee Bleacher
Lemon juice acts like an effective elbow and knee bleacher. If these parts of your body have started looking dark, simply rub them with lemon. Repeat the process every night before sleeping, and I am sure you would get great benefits.
6. Blackhead Treatment
Blackheads have become a common skin problem. Are you suffering from it? This may sound shocking but is true that lemon is good to deal with blackheads. Lemons have antibacterial properties, and these treat blackheads and acne effectively. Just slice a lemon and squeeze the juice onto your face for good results.
5. Cleansing Wipes
Mix a few drops of lemon juice and tea tree oil in a bowl. Add some honey to it and make a mask. Use it to the skin as this as a cleansing wipe for problematic skin. It is a wonderful cleanser that gives you good skin and helps to get rid of germs.
4. Shine Eliminator
Lemons are great to reduce excessive skin oil. For the men and women who live in cold and dry climates and are suffering from too oily skin, rub of lemon juice can help to make the skin look wonderful and attractive.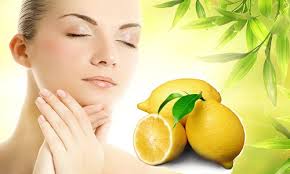 3. Lip Exfoliator
Lemons act like a good lip exfoliator. Put a little lemon juice on your lips before bedtime, and wash it off early in the morning. This removes dead skin cells and helps to get rid of dry lips. This keeps away chapping problem, and gives the lips a lively look.
2. Nail Strengthener
Are you suffering from nail problems? Make a mixture of olive oil and lemon juice, and soak the nails. It is good to deal with dry and brittle nails, and fixes almost all of their problems including the yellowing of nails.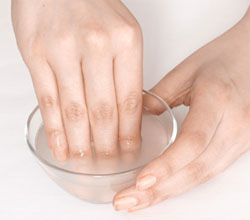 1. Hair Lightener
Having long and strong hairs is the dream of every one of us. Lemons give you good looking hairs as these act like hair lightener. Apply it before you step out of the house. This will help treat a dry scalp and dandruff, and also will deal with sun damage which can ruin the natural shine of the hairs.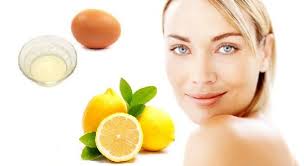 Do you like lemons?