Bollywood is a place where talented individuals can find excellent and promising careers. Countless faces have been produced by Bollywood ever since its establishment who have gone to conquer the hearts of the fans and rule the industry during their times. In the recent years, Bollywood actors have even received praise internationally too, and thus here we have the top 10 best Bollywood actors 2015 who are currently at the peak of their careers.
10. Ajay Devgan
Ajay Devgan is among the finest actors of 1990s. Despite losing much of his fame ever new trends made their way into the Hindi-language film industry, he has continued to perform a diverse variety of roles in order to maintain his footing in the mainstream Bollywood. In recent years, Ajay Devgan seems to have a knack at acting in comedy movies, such as in the Golmaal movies.

Born: April 2, 1969 (age 44), New Delhi, India.
9. Sanjay Dutt
Sanjay Dutt holds a very distinguished and unique place in Bollywood. It would not be wrong to claim that he is somewhat the father of action of in Bollywood. His portrayal of a ganger in the movie Vastav is largely responsible for the popularity he has gained. Over the years, he has continued to perform such roles with great expertise.

Born: July 29, 1959 (age 54), Mumbai, India.
8. John Abraham
John Abraham happens to be one of the most attractive and talented actors in Bollwood. What is interesting is that he is not only large famous for this acting skills but is also even more popular as a result of his ripped physique, which has helped him garner a large female fan-base, in particular. Whatever the reason, he is definitely among the current best actors of Bollywood.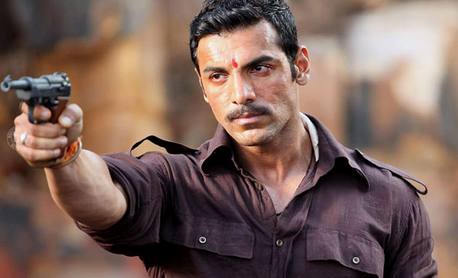 Born: December 17, 1972 (age 41), Mumbai, India.
7. Saif Ali Khan
Saif Ali Khan is also among the most popular names in Bollywood. He is largely popular for his unique style of laughing and talking. He is cute, experienced and a very talented actor, having shown excellent acting skills in a wide range of Bollywood movies. Another thing that has recently brought Saif Ali Khan under the spotlight is his marriage to Kareena Kapoor.

Born: August 16, 1970 (age 43), New Delhi, India.
6. Hrithik Roshan
The handsome and tall Hrithik Roshan is among the most diverse and popular faces of Bollywood. In recent years, he has shown excellent acting, but he is also equally popular for his dancing skills as well. He managed to earn an even greater deal of popularity after he started in the recent movie, Agneepath.

Born: January 10, 1974 (age 39), Mumbai, India.
5. Ranbir Kapoor
Ranbir Kapoor has earned tremendous fame and popularity as a result of appearing on the Bollywood big screen. Despite the fact that he is still at a very early stage of his career, he actually has quite a long list of excellent works against his name. His career had started with the movie Sanwariya, while he has earned an even greater deal of popularity after starring in Rock Star and Barfi.

Born: September 28, 1982 (age 31), Mumbai, India.
4. Akshay Kumar
Akshay Kumar is among those very few lucky Bollywood actors to have continuously ruled the hearts of millions of fans, time and time again. Not only is he physically attractive with a great deal of expertise when it comes to acting, but he also happens to be a black belt in Taekwondo. However, his emphasis seems to have been on acting in action cum comedy movies.

Born: September 9, 1967 (age 46), Amritsar, India.
3. Salman Khan
Over the years, Salman Khan has managed to garner a huge fan following of teenagers, in particular. In fact, not only does he have fans in India but through the entire sub-continent. All credit for all of Salman Khan's popular goes to his years of acting and showing excellent acting skills in such a vast range of movies.

Born: December 27, 1965 (age 47), Indore, India.
2. Amir Khan
Amir Khan is a Bollywood actor who is renowned for bringing innovation in the Hindi-language film industry over the years. His is an actor who is not only limited to acting, but ha seven introduced new dressing styles, hair styles, and even new trends in how scripts are written for Bollywood movies. He has earned immense popularity after his roles in movies like Gaijini and 3 Idiots.

Born: March 14, 1965 (age 48), Mumbai, India.
1. Shahrukh Khan
Shahrukh Khan is known as 'King Khan' for a reason since he has earned the title of being the King of Bollywood. He enjoys tremendous respect in all walks of life and has even garnered an international fan following as well. He is largely known for his emotional and romantic acting skills, and continues to excel in movies of that genre.

Born: November 2, 1965 (age 48), New Delhi, India.
This list of the top 10 best Bollywood actors 2014 who maintained their level of popularity by starring in some of the most successful Bollywood movies in recent years. And you can check it out our previous article that we listed "who are top 10 richest Bollywood stars 2014".